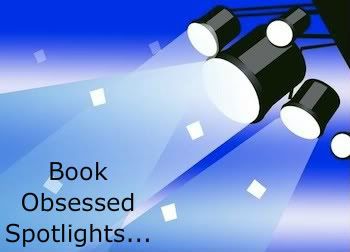 I thought I would return a
feature I used to do every Monday spotlighting
a recently discovered book that I found interesting from its blurb.
This time around I've changed it up a bit. Instead of posting every week about books I haven't read, I'll post about books that I have read and loved, that I want to share with you.
Anna and the French Kiss
Stephanie Perkins
Anna is looking forward to her senior year in Atlanta, where she has a great job, a loyal best friend, and a crush on the verge of becoming more. Which is why she is less than thrilled about being shipped off to boarding school in Paris - until she meets Etienne St. Clair: perfect, Parisian (and English and American, which makes for a swoon-worthy accent), and utterly irresistible. The only problem is that he's taken, and Anna might be, too, if anything comes of her almost-relationship back home.
As winter melts into spring, will a year of romantic near - misses end with the French kiss Anna - and readers - have long awaited?
Perfect Chemistry
Simone Elkeles
A fresh, urban twist on the classic tale of star-crossed lovers.
When Brittany Ellis walks into chemistry class on the first day of senior year, she has no clue that her carefully created "perfect" life is about to unravel before her eyes. She's forced to be lab partners with Alex Fuentes, a gang member from the other side of town, and he is about to threaten everything she's worked so hard for—her flawless reputation, her relationship with her boyfriend, and the secret that her home life is anything but perfect. Alex is a bad boy and he knows it. So when he makes a bet with his friends to lure Brittany into his life, he thinks nothing of it. But soon Alex realizes Brittany is a real person with real problems, and suddenly the bet he made in arrogance turns into something much more. In a passionate story about looking beneath the surface, Simone Elkeles breaks through the stereotypes and barriers that threaten to keep Brittany and Alex apart.
Black Ties and Lullabies
Jane Graves
A good girl can be bad for one night...
Bernadette Hogan doesn't make mistakes. Not when it comes to caring for her mother, and not at her job protecting Texas's most eligible—and infuriating—bachelor. Maybe that's why she's overcome with guilt after one tiny indiscretion: a passionate fling with her boss that's left her confused, intrigued...and pregnant.
but can a bad boy be good for a lifetime?
To self-made millionaire Jeremy Bridges, women are like fine wine: if held for too long, they sour. But one wild night with Bernadette changed all that. She makes him laugh, she makes him think, and soon she's going to make him a father. For the first time, Jeremy wants to be a one-woman man. So how can he convince the fiercely independent Bernadette he's ready to change from partying playboy to dependable dad—and become the loving husband she deserves?